In a prior post, we looked at the Google speed test tool. It is an excellent way to evaluate your site and comply with what they consider to be user-friendly guidelines.  The essential purpose of their guidelines is to get sites fast, secure, and mobile friendly.  Although their tool is free and useful, we can get more help from another free tool.  Let's look at what GT Metrix can do for you.
Evaluate Your Page for Free
The GT Metrix site offers a free page evaluation just like Google.  The tool is not a web crawler.  Thus, we recommend that you test every relevant page on your site.  The tests should include the home page, landing pages for ads, and call to action pages.  This step is easy.  Go to the website (link above) and enter the address of your page.  When we run our site, we get a result about a minute later similar to the screen shot below.  Go ahead and open a window or tab to try out your site.  We will wait for you.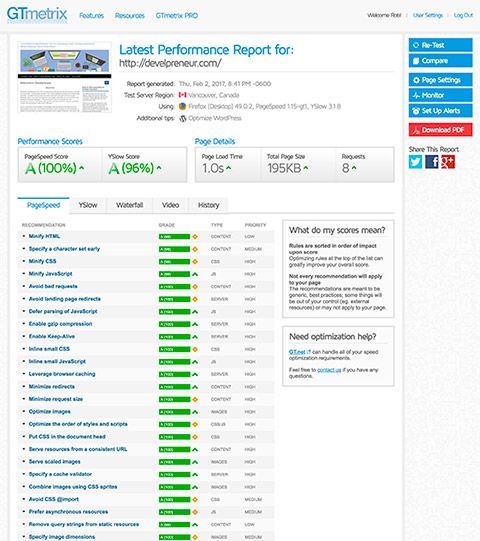 Improve Your Site
You will see two scores for your site.  The PageSpeed and the YSlow rankings.  Each score has a tab for the details related to the score.  PageSpeed is the default tab shown when you first see the results.  Note that where Google provides a half dozen to a dozen details at most, GT Metrix provides even more.  More importantly, each detail has a drop down that will display the specific lines of code or files that are suspect and a help link.  The help link describes the aspect that is being tested and often includes a tutorial on how to fix the problem.
Track Your Progress
As a bonus, GT Metrix offers the ability to register with their site (for free) to get some additional features.  We highly recommend you register with them as you will be able to compare pages and history, as well as quickly select past site evaluations.  The website is not only a useful tool to get you started, but it is also full of features that can help you with regular site maintenance.  As you add content and update your site, use GT Metrix to evaluate the latest version.  Regular evaluation will help keep your site in the top performing category and improve its SEO ranking.  Your customers will thank you, and a happy customer is more likely to remain a client.

Category: Tech Notes
Leave a comment