GoDaddy is one of the most popular domain registration sites online.  Use these simple step to make the task of registering a GoDaddy domain a breeze.
Registering a GoDaddy domain
Start out by opening an internet browser.
Enter in the GoDaddy's home page: https://www.godaddy.com/ in the address bar.
On the main page enter in your domain idea like "your domain here".
Click on the "magnifying glass" to search for the domain.
---
Choosing a Domain
This action will bring up a page of available domain names and extensions based on your search criteria.  If you used the example of "your domain here" you would have received a list like this one: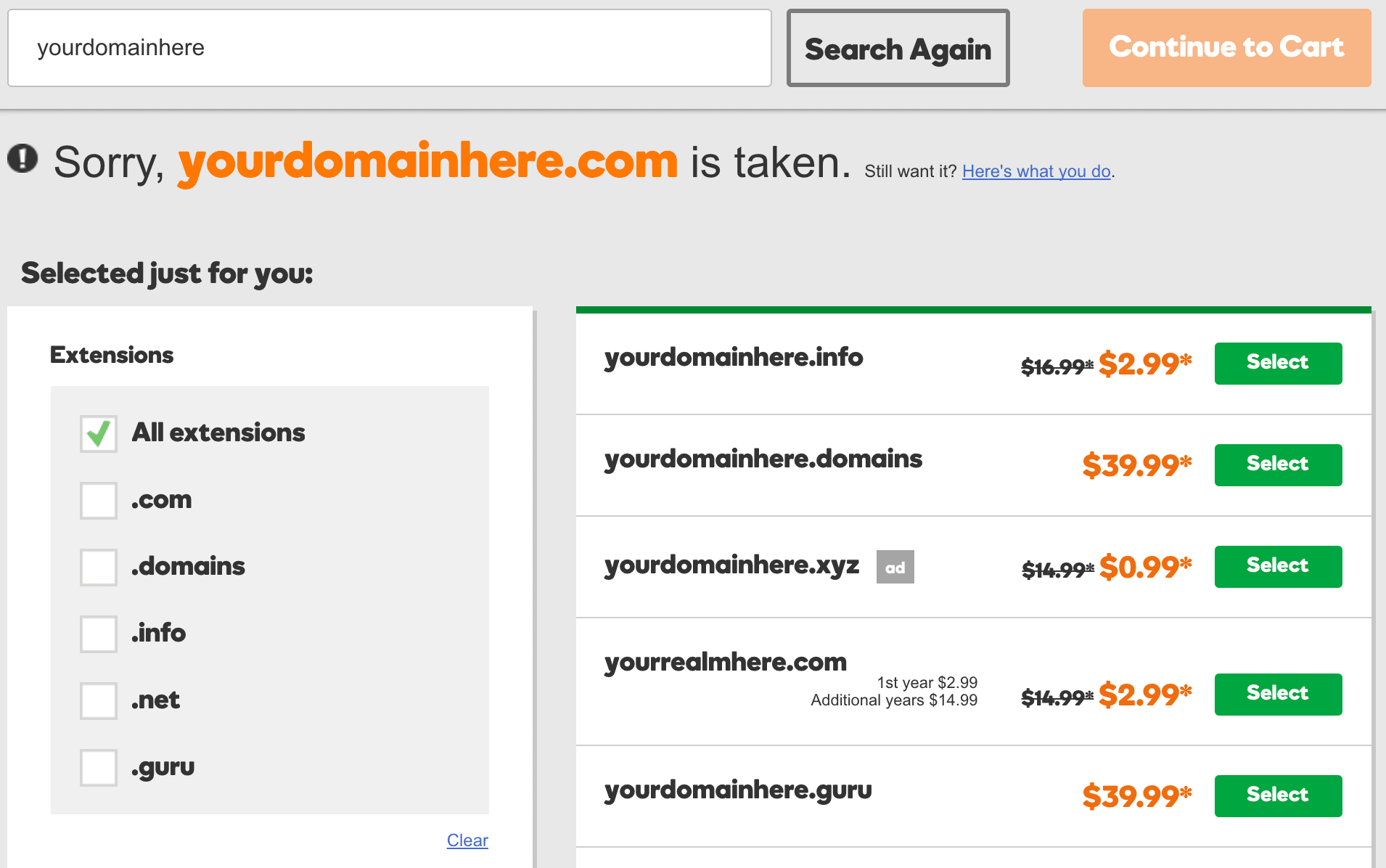 We see that .com is already taken, but we have other options of .info, .domain.  GoDaddy also provided other ideas for a domain name like "sell your domain here".com.  To filter these extensions you just have to check or uncheck them from the list on the left.  Below extensions are other filters you can use to refactor your search based on region, price, or even character length.
Once you select your domain, it will be placed in your shopping cart.
Go ahead and click on the shopping cart logo or "Continue to Cart" button to proceed.
The Cart will bring up the product description and pricing page.  However, sometimes GoDaddy will inject an additional screen to sell other services before taking you to your cart.
 In those cases just click the "Continue to Cart" button at the bottom of the screen.
---
Adding On to Your Order
Here you will have the ability to add additional products and services.  This looks like this: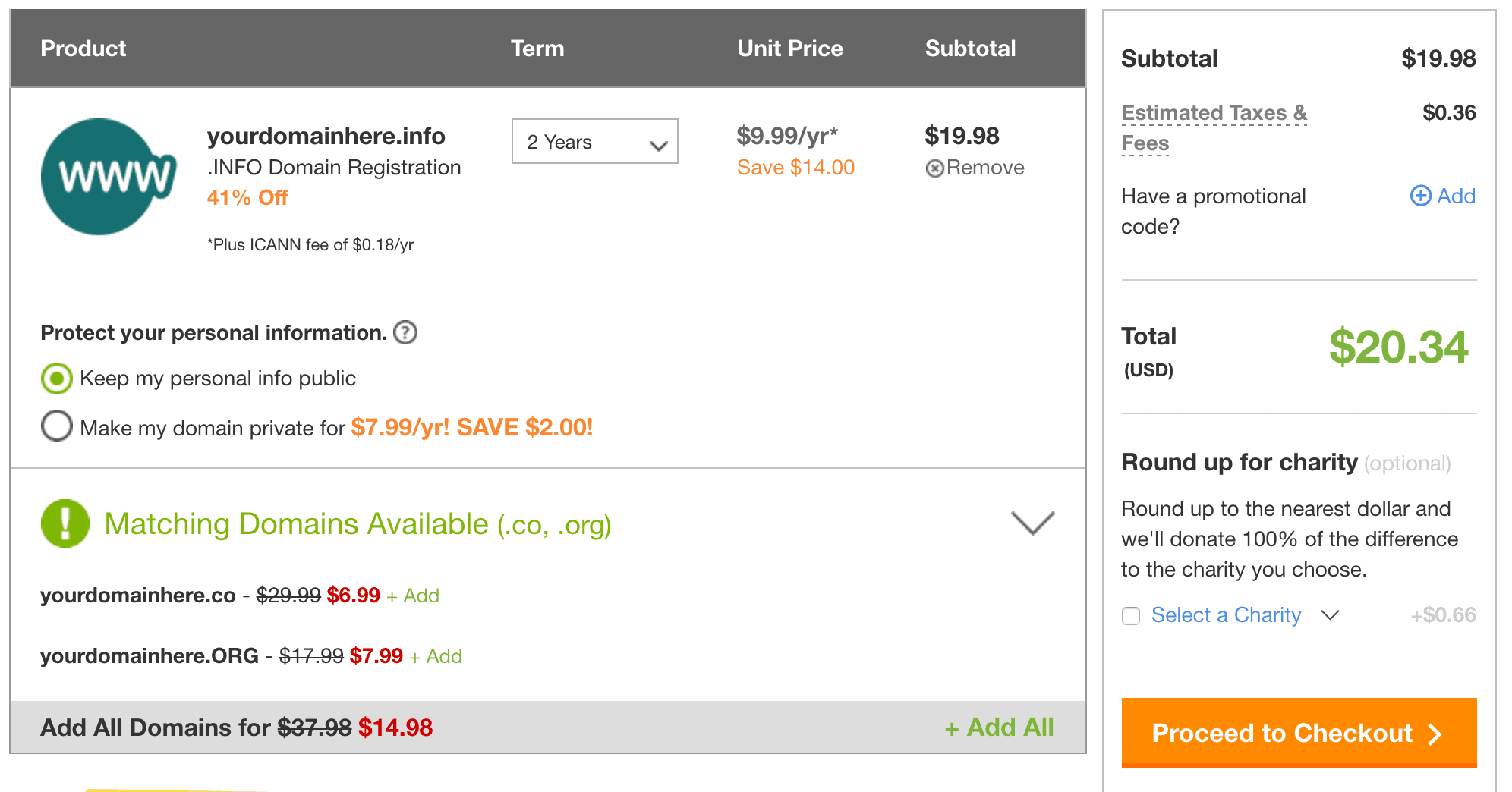 At this point, the only additional cost you may consider would be to protect your personal information.  By paying for this service GoDaddy will keep you contact information private. Otherwise, other vendors including GoDaddy can use this information to solicit you for services or the sale of your site. While this can be annoying, you can maintain this through spam filters.
Now let's proceed to checkout by clicking on "Proceed to Checkout".
At this point, GoDaddy will request that you either login with an existing account or create a new account.  You should be on this screen (unless you already connected to GoDaddy then you will be in the next step):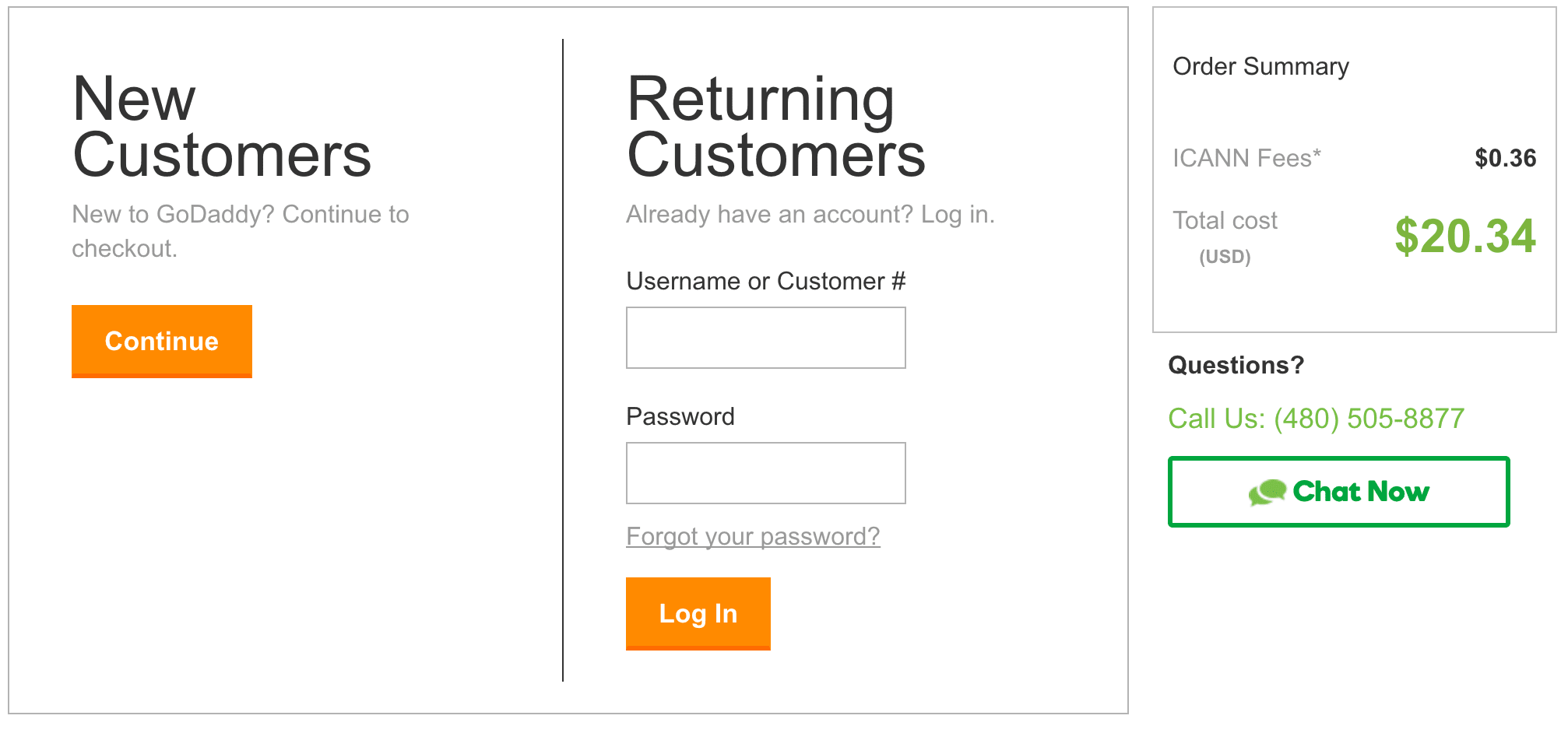 Assuming you do not have a GoDaddy account click "Continue" in the New Customer section.
---
Complete The Order
If you already have an account login, and you should see the payment screen similar to this one minus the account information.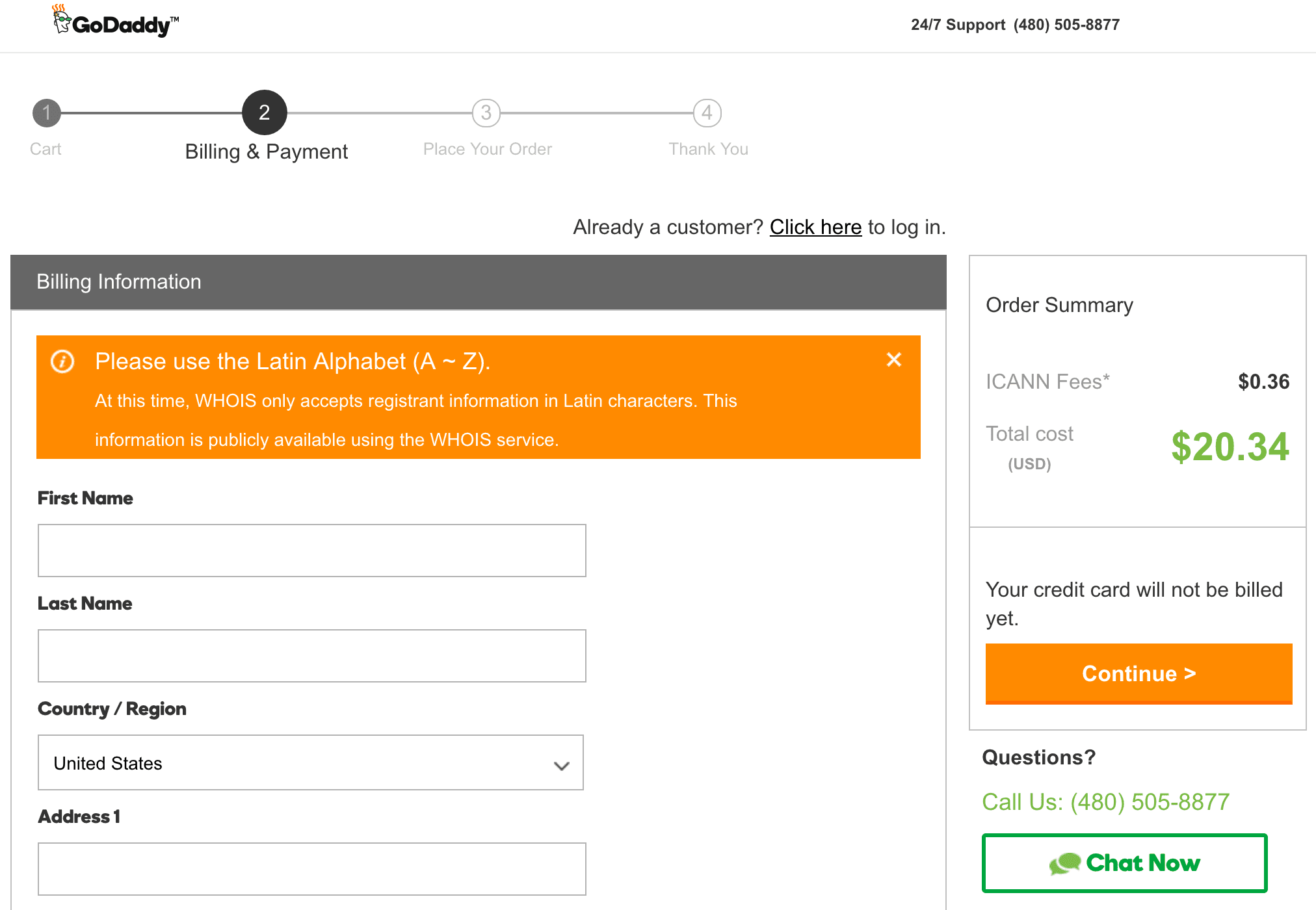 Fill in the required Billing, Account, and Payment information and click the "Continue" button.
This action will bring you to the Order Review page.  Look over all the information you entered.
If the information is correct, go ahead and click on the "I agree to the following" checkbox.  The checkbox is beneath the "place your order" button.
Then click the "Place your Order" button.
---
Almost Done
This action starts processing your order and starts the domain registration process.  This process can take anywhere from a few minutes to 48 hrs.  Keep an eye on your email for verification when your domain is ready.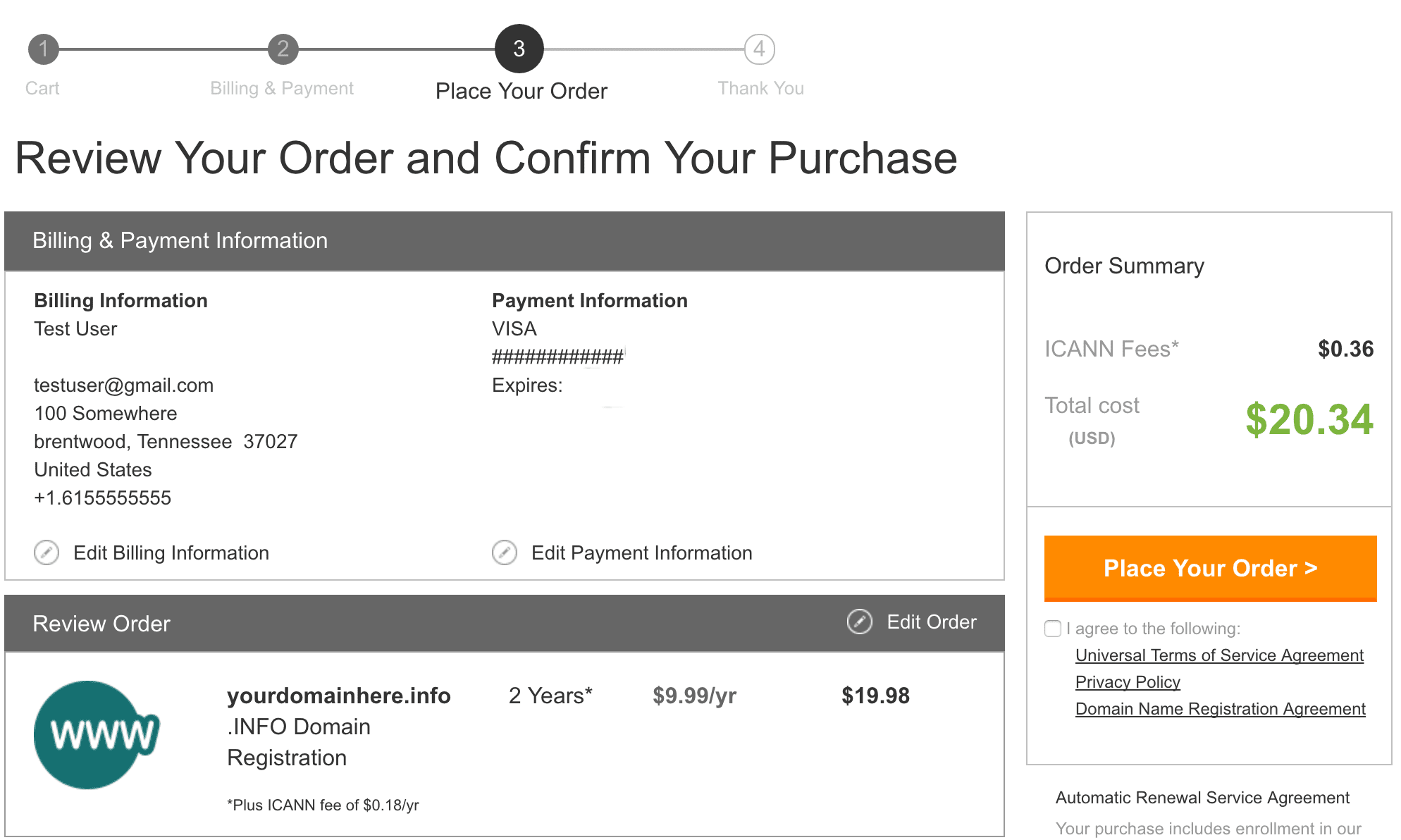 ---
Additional Resources:
---
We hope you found this steps for registering a GoDaddy Domain useful.  To continue taking our "Domain Registration and Configuration" class click here to return to where you left off.
[sgmb id="1″]