WordPress is a great tool for getting content to the masses.  Sadly, the most significant proof might be how quickly spammers will start posting comments to your blog.  Spam can be a headache to manage.  However, WordPress has methods to address the problem.  They provide configuration settings and an easy to maintain list of comments for review.
Review All Comments
The first step in avoiding spam is to make sure comments are not posted to the site without review.  This is a good approach for non-spam comments as well.  Sometimes website readers get fired up about a topic and use inappropriate language or go no tirades that would reflect poorly on the site.  Save yourself some headaches by setting all comments to require review.  Require comment review by going to the Settings->Discussion page in the WordPress admin.  In the Before a comment appears section check the "Comment must be manually approved" box and save.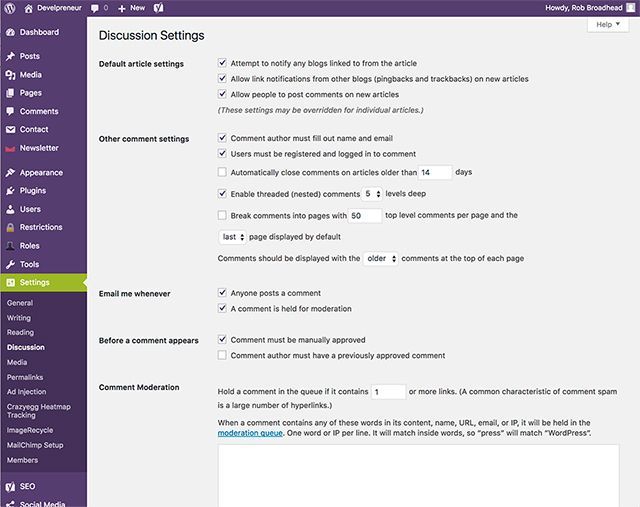 Check the box "Users must be registered and logged in to leave a comment" in the Other comment settings.  It reduces your spam comments as it helps avoid bots and automated spamming.
Finding the Spam Comments
There is still the review process to address after marking comments as spam.  The review process displays a list of comments and provides options for each.  The review options are trash, accept, spam, and edit.  Some comments are easy to review.  These spam comments will be a comment that sells a product, links out to an unrelated site, or tells you how to drive more traffic to your site.

Unfortunately, not all spam is obvious.  Take a look at the author information before you accept a comment.  Spammers offer a clean comment like "I love your site" but have a spam link as part of the user info.  Typically the email address field for a spammer has a link to a spam site.  If the user information appears clean and the comment has no links or references to other sites then accept it.  Mark comments as spam instead of sending them to trash.  This will help the system adjust spam detection rules and reduce the comments for review.
Spam comments are a part of any blog.  Take these steps to avoid them and keep your site clean.

Category: Tech Notes
Leave a comment