There are many options to choose from when it comes to registering a domain.  One of the largest companies is GoDaddy.com.  Registering for a domain is relatively easy to do.  However, the task of connecting a domain to a server can be a bit more involved.  Therefore, we have put together this guide to help simplify the work of configuring a GoDaddy domain with a server.
---
Configure a GoDaddy Domain
Then, start by logging into your
GoDaddy
account and bringing up the main products page.

Click on the "Manage" button next to Domains.
This action will bring up a list of all your domains.  Scroll through your list until you find the Domain Name you wish to configure.
Click on the name to go to the domain details screen.
You will either see a screen with tabs (click on DNS Zone File) or you will go right to the screen shown below.
Click on the "Cog in the upper right-hand corner and choose "Manage DNS".
This page displays all the record sets for your domains DNS.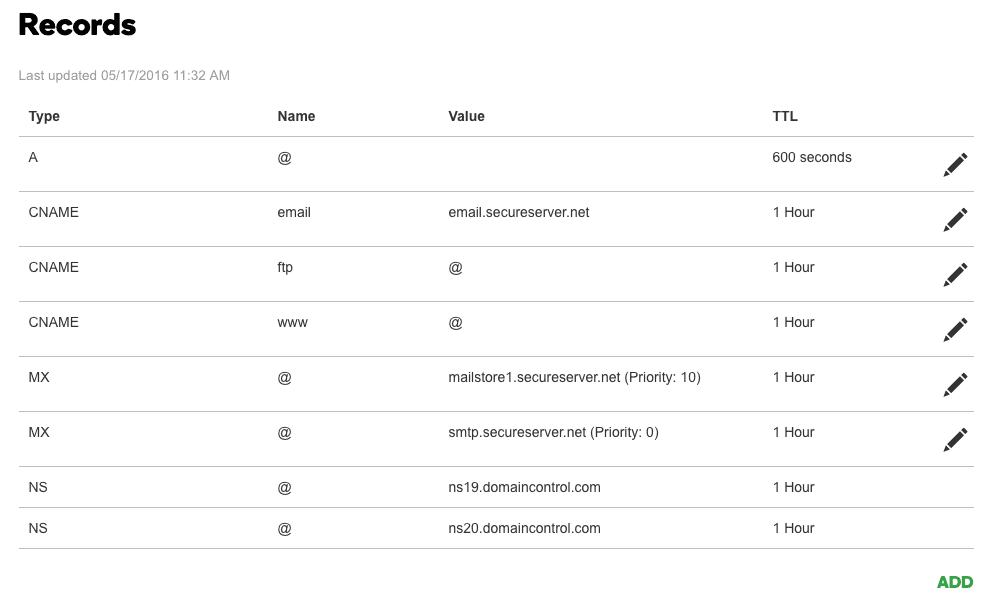 Click the Pencil next to the "A" record and replace the value with your IP address.  If you setup an EC2 server for a class, then this is the AWS EC2 Elastic IP.
Finally, save your changes and wait.
It will take the DNS server a couple of minutes to refresh (sometimes up to 24-48 hours), but once it's complete you will be able to enter your domain name into a browser, and you should see your web server home page on the server.
---
Additional Resources
---
To continue taking the "Domain Registration and Configuration" class click here to return to where you left off.
[sgmb id="1″]