In both my consulting jobs and development of personal websites, image size has been an issue.  Marketing focused sites that highlight products and services tend to be full of screenshots and high-quality images.  However, even blog posts will often need a picture or two to avoid pages full of text.  The problem with all these images is that they can be large files and thus slow down your site.  Even though more users have high-speed connections to the Internet, a good site will aim to be "friendly" to low-speed connections.
For professional developers and sites, the importance of smaller file sizes goes beyond aesthetics.  Google and other search engines include page load times as part of the calculation in page ranking.  Thus, large file sizes can be the difference that knocks your site to the second page of search results.  We all know that is a page no one ever sees.
Image Recycler to the Rescue!
WordPress is an excellent tool for bloggers.  We have sung its praises in numerous articles here.  One of the great things about WordPress is that it makes it easy to add images to your posts.  However, it does not have useful image compression built in by default.  Thus, compression up to the author before they upload an image.  Never fear, there are some plugins to help out.
I recently had multiple reasons to spend time reviewing compression plugins for WordPress and other sites.  The tool I found to be the best for a variety of reasons turns out to be very easy to use in WordPress.  This excellent plugin is called Image Recycler.

Strengths of Image Recycler
I won't go through all of its strengths when compared to other options, but I want to mention the main strengths of the tool.  Image Recycler goes beyond images and compresses other files.  The other files include PDFs and similar documents that you may provide as templates or white papers.  These non-image documents count for download times just as images do.  Thus, compressing them is just as valuable.  The tool is easy to use but also has payment plans that make sense.  They charge based on the size of images compressed.  This fee can be a fixed amount or on a monthly or annual basis.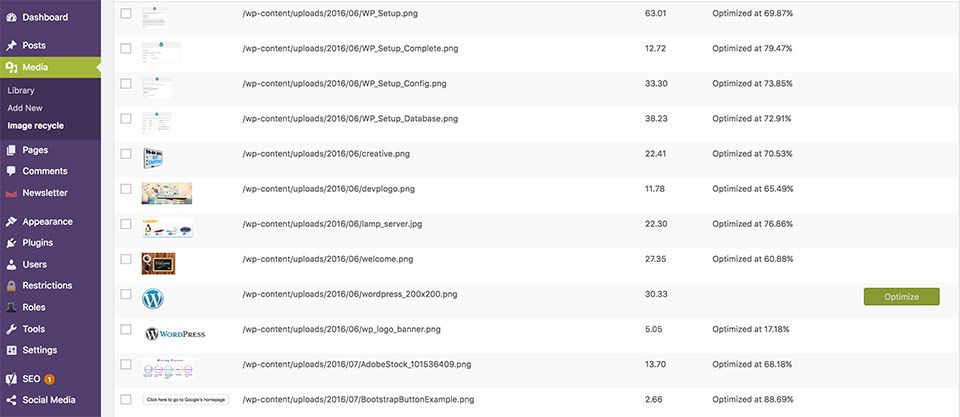 Another key strength of Image Recycler is the ability to revert images as needed.  You will not lose your original file.  The option to restore the original version is necessary in cases where image compression makes the image appearance degrade.  The tool includes some settings to allow the administrator to set how "aggressive" they want the compression to be via limiting how big images should be after compression.
Easy To Use
You can see from the screenshot above that administration is intuitive.  A list of images used on the site are listed, and you have the choice to optimize them individually or en masse.  The screen also displays the optimization percentage and final file size to help you determine the usefulness of the compression.
Although Image Recycler is not free, they do offer a free trial.  I highly recommend you check it out and judge for yourself.  They even provide an analysis tool for free that can show you what their tool will do for your site.
Find out more about Image Recycler on their website: https://www.imagerecycle.com/
[sgmb id="1″]